I found out about Bonds of Brass by a random Twitter-induced happenstance. Someone I followed had liked a tweet by Emily Skrutskie, in which she described her upcoming YA novel. And the promise of a M/M romance, set in a space opera of imperial intrigues and starfighters, was all I needed to pre-order. Luckily, I also snagged an ARC of it at C2E2, and I devoured it in two sittings.
Bonds of Brass takes place in the distant future, in which humans have spread out into the galaxy and formed vast empires that now challenge each other. Ettian is a young pilot, training to fight for the brutal empire that destroyed the one he was born in. Having shed the past during two grueling years of living on the streets, he now only has eyes for his own future. As well as his handsome bunkmate and best friend Gal. But when an almost successful assassination attempt reveals Gal to be the heir to the empire that made him an orphan, Ettian has to decide whether his loyalties lie with the ghosts of his shattered past, or his feelings for a boy who is destined to inherit the most horrifying power in the galaxy.
I loved, loved, loved this book! Skrutskie's effortless prose, kept in a tight first person from Ettian's perspective, tells an exciting tale of adventure with anime undertones (coming accessorized with power suits, for extra otaku points). The action is fast-paced, the language — extremely evocative. We can smell and feel the world on every page, be it confined to the cabin of a space ship, or a vast cityscape.
But what's even better, the novel paints a beautiful relationship between two boys, persevering despite being designed to fail in all manner of spectacular ways. Ettian's feelings — and through his eyes, Gal's as well — are raw and earnest, unfiltered by his telling of the story, and the adventure the two are forced into puts those to the test. In moments of intimacy, the painful ache of desire also takes on a very physical, if adorably chaste, tone. Skrutskie takes us all the way into the eyes of Ettian, as they hunger over the details in physicality and mannerism that made him fall for Gal.
Bonds of Brass is fast paced and action packed, but somehow, there is always time for character building. Both of the book's heroes are complex, neither one falling into black-and-white stereotypes. If anything, both get up to some highly questionable shit, ethically speaking, and the ending left me with a deep sense of uncertainty as to who I was actually rooting for. On that note, it bears noting that this is only a first part of a trilogy, and it is wide open.
If I have one problem with Bonds of Brass, it is extra-literary, and personal, and has nothing to do with the book's merits. On Emily Skrutskie's pinned tweet, she describes the characters as "two bisexual disasters". And I have no problem believing that Gal is bi. But, um, as a gay man, Ettian reads gay to me. This is a made-up character, and everything that exists of him is in this book. And in this book he is coded as fully focused on a single person, who happens to be male-identified. No hints are given of any interest he has ever had in other people, not even a throwaway sentence or a stray thought. The only other relationship he has, is aggressively platonic, and firmly defined by shared experiences. The only time, in fact, when he has any romantic/sexual thought not focused on Gal, it is to observe two boys making out in a cantina, and feel jealous.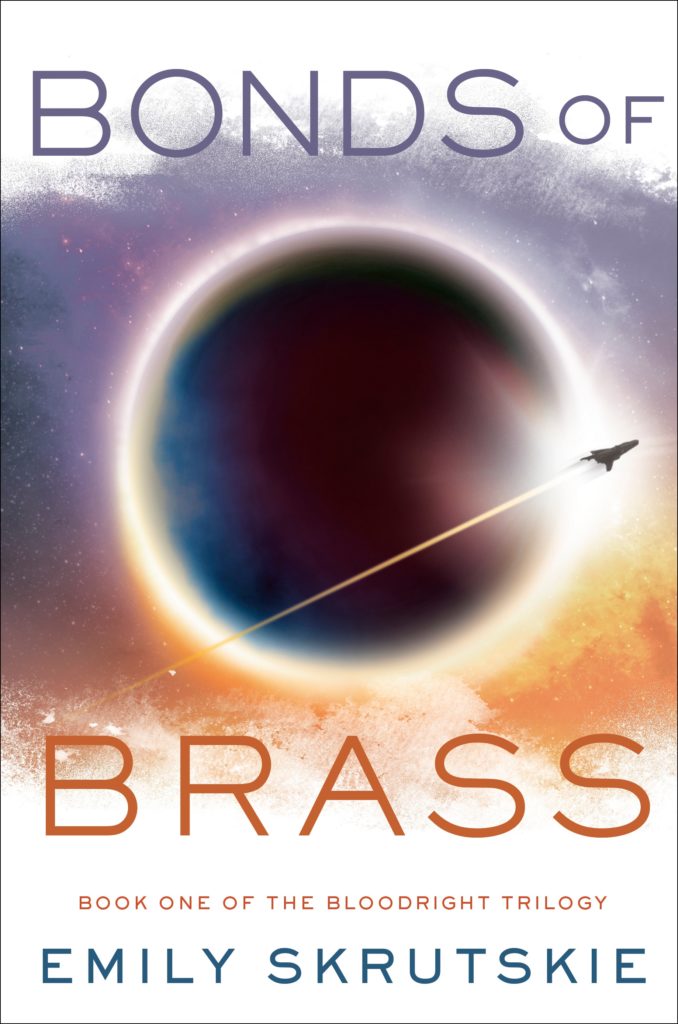 I recognize that this is not a real issue, and labels aren't terribly relevant in a made-up future space opera. And to be absolutely clear, I love reading about bisexual characters. But to me it read somewhat like "Dumbledore is gay", as well as made me a bit sad on a personal level. It seems there are barely any gay male-identified protagonists in current SFF, confusing though that might be, considering how progressive the field has become in recent years. And not that I am that desperate for explicit identification, but it still felt nice when the novel was giving me a very clear signal that this was what I was getting. And then it seemed that the author herself did not support that signal.
This is, however, my own personal issue, and ultimately it only rubbed me the wrong way for a moment, before being drowned by the sheer awesomeness of Bonds of Brass. If royal intrigue, space warfare, planetary adventures, and boys in love are your game, then this book plays it perfectly. My only problem at present is that it isn't even out yet (release date is 4/7), and I am already itching for the second part of the trilogy.