Disclaimer: This is going to get opinionated. I want to preface it with saying that I am a massive fan of Harry Potter, and I utterly adore Bonds of Brass. What I am about to say should be taken as a broad commentary about the nature of fiction, rather than dissing either work, or its author.
---
There is something that has been chewing on the sides of my brain ever since I wrote my review of Bonds of Brass.
Bisexuality.
No, just kidding (kind of). It was Emily Skrutskie's tweet (and comments in other places), stating that the two main characters of the book were bisexual, when they were not coded as such in the book itself. I have been trying to examine why this statement bugged me so much, and I realized it has nothing to do with identity.
Instead, it's about what is on the page, and what isn't.
Now, if the title hasn't forced your mind in that direction, let me just remind the world that, at present, J.K. Rowling is the undisputed champion in extra-literary revisions. With every new tweet about the Wizarding World, she erodes our love for her books a tiny bit more, but it goes further than that — she adds information that was never part of the narrative of those books. That is not a problem for some people, but it is a massive issue for others.
I think there are two fundamental approaches to perceiving fiction (just kidding, there are a million. But stay with me on this one). You can treat it as an alternate reality that you are viewing form the window of the book/screen/whatever; or you can treat it as a work of art, with its internal rules and limitations — a sort of fourth-wall approach, in which you are aware of your role as a spectator. The two are not mutually exclusive, of course. In fact, I think they always intertwine to an extent. But in their extremes, they lead to different perceptions of the reality of the work.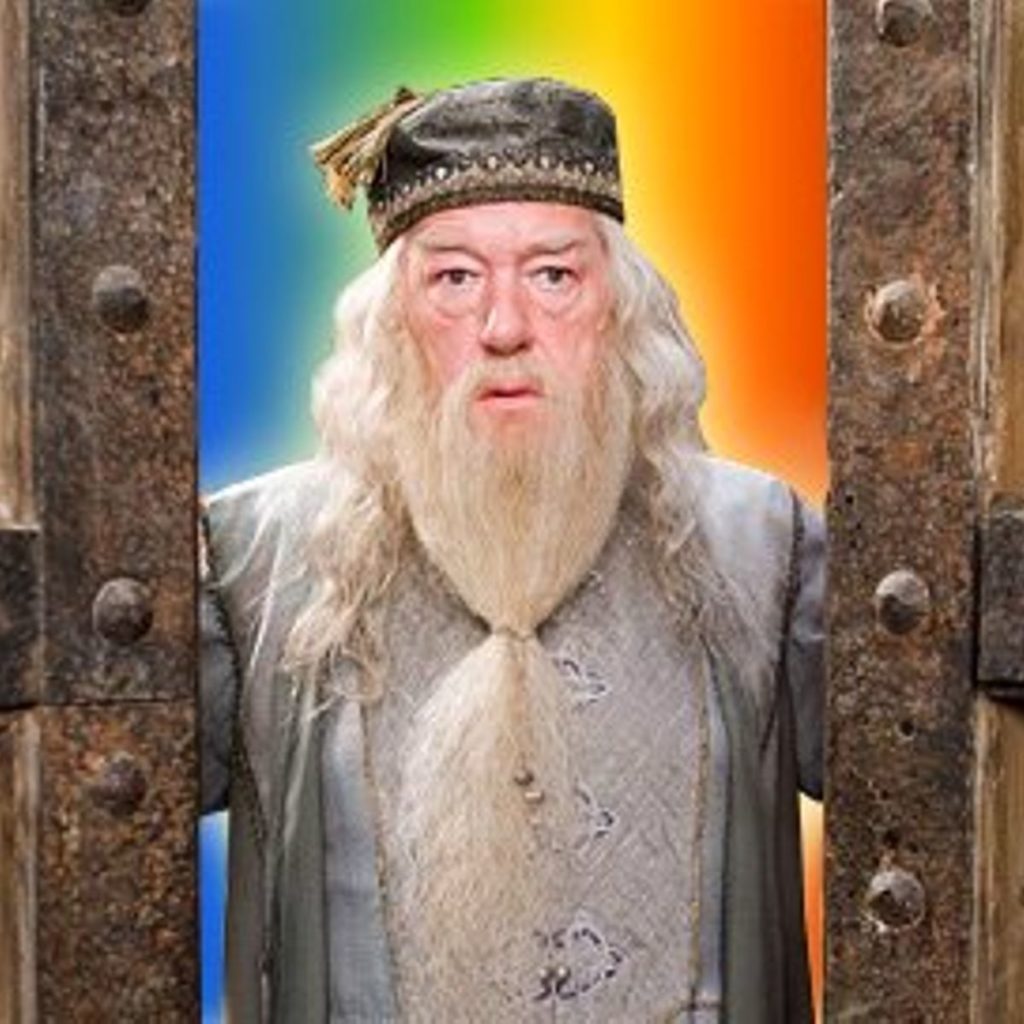 If you see the fictional story as something real and independent of your perception, you can easily incorporate any piece of external information into the work. Such as — you guessed it! — Dumbledore being gay. It's not in the Harry Potter books. It's not hinted at, it's not implied. There is literally nothing you can even retrospectively point at, and say "This codes Dumbledore's sexuality". If anything, he is the quintessential ace character — a wise old mentor archetype with no sexuality whatsoever.
But if you think of him as a real person, existing independently of the books that tell his story, he could easily be gay. The narrative isn't about his personal life, after all, right? It's plausible that it wouldn't come up.
I don't think in those terms. And I won't claim that my approach is "the right one", because hey — who am I, really, to tell you how to enjoy fiction? But I have always been on the opposite end of the spectrum. I hate fan theories with a fiery passion. I avoid forums that discuss ongoing fantasy series like the plague. No, Tyler, Daenerys is NOT secretly Tyrion's niece. Jaime didn't kill his mother. Arya doesn't have a secret Braavosi lover.
You know why? Because they don't exist.
These people are made up. Their experiences only ever occur in the fiction that features them. They don't have independent life outside of it. I will not speculate as to the secret thoughts and actions of non-existent people, because the writer can, at any point, choose to take them in any direction they please. Sometimes — sadly — they do it specifically to subvert the expectations of fan speculation.
This is why the bisexuality of the Bonds of Brass boys bugged me so much. Because that is a story based around romance, and that romance is same-sex. That's what is presented inside the book, and that's all that exists of these two entities. Claiming otherwise, even as the writer, implies that they have a life outside of the work, that there are further dimensions to them that I am not privy to. And for all I know, maybe future books in the trilogy will blast their bisexuality in my face. I won't love those two disasters any less for it.
But in the mean time, I believe that the work is the work, and only the work is canon. It doesn't matter whether my story is about any particular kind of identity or circumstance. If it matters to me that my readers perceive my characters in any specific way, it is the simplest thing in the world to code them that way, without ever making it a focus of the narrative. A stray thought. A random line of dialogue. Someone casually noticing the attractiveness of someone else.
We are writers. The world of our own work is our butt-monkey. There is nothing we can't make known to the reader, if we so choose.
In the actual real world that we live in, labels are still important, and identity is the nexus of social and political fights that have defined generations. Hetero is still the norm. Same-sex relationships still read "gay" or "lesbian". Therefore, if we want to paint our characters in more complex colors (even when we are placing them in a post-identity world), we have to code them as such within the work.
I shouldn't have to read J.K.'s tweets in order to know something so profound about one of her series' most important characters. But BOOOOY would I love some hot and steamy prequel story about young Albus getting it on with another dude!