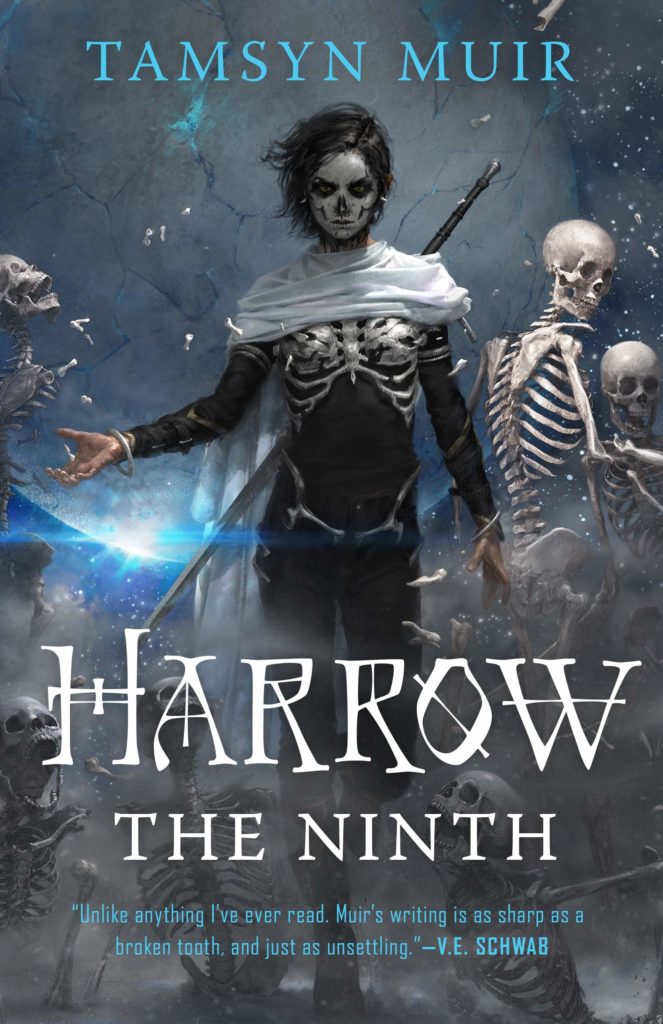 Tamsyn Muir's debut novel Gideon the Ninth was an absolute revelation to me. Unapologetic and audacious, it easily became my favorite book of 2019. If I could have "Queer Baroque Necropunk" be a legit genre, I would likely buy anything published in it. And as for the sequel, I would have been perfectly content to read another story like Gideon.
But that would be too easy.
The following review contains spoilers for Gideon the Ninth.
Right from the get go, Harrow the Ninth aims to confuse. You see, this is not the Harrow we remember from the first book. Gone is the viper wit, the withering confidence, the precocious bone genius. Instead, we are offered a Harrow that somehow bungled the Lyctoral process. One who is beset by physical frailty and the gravitational pulls of anxiety and depression. She is a young girl, alone and trapped on a space station with teachers who despise her — one of whom is even trying to murder her! — and a God who feels sorry for her, and has no answers to her questions.
This is also a Harrow who went to the First House with Ortus Nigenad as her cavalier primary. But…
Is this how it happens?
Harrow the Ninth is a brave new frontier that flirts with the post-modern. Tamsyn Muir has earned the reader's trust, and soon the maddening mystery of Harrow's sorry state, as well as the inconsistencies of her existence begin taking shape. The novel alternates between two types of chapters. Some are in second person, in which she is being told how the present is unfolding by a mysterious narrator. The past tense makes them an interesting experiment of storytelling, as if Harrow herself was not present for these events. The rest are in traditional third person, and retell the story of her journey to the First House. Except, it's all wrong. Nothing happens the way it was described in Gideon the Ninth. Characters are not who they appear to be, and at sudden moments people will question the reality around them.
The cast of said characters is just as colorful as that of Gideon, though in a completely different way. Everyone carries their own unique damage. Harrow's new sister Ianthe Tridentarius — formerly Princess of Ida, now Lyctor of the First House — has murdered an unwilling cavalier to achieve her sainthood. Now struggles with a sword hand that won't obey her. God himself and his three surviving original Lyctors are creatures who have known each other for ten thousand years, They have accumulated civilizations' worth of grudges and emotional baggage, deliciously opaque for any reader who has not been alive for a myriad. Meanwhile, Ortus Nigenad — failed cavalier primary of the Ninth House in Gideon the Ninth — seeks redemption in the eyes of the reader, as he tries to fulfill his role in a story that never happened.
Harrow the Ninth throbs with the disquieting feeling of paranoia and an almost Gene Wolfean puzzle box quality. Things are not as they seem, the world is not as it should be. This is not how it happens. The wrongness permeates not only the inaccurate retelling of the events at the First House, but also the present in the Mithraeum — the Emperor's space station, 40 billion light years away from Dominicus and its Houses — where a dead Lyctor stalks the hallways seeking vengeance, while a living one bears the name of the wrong cavalier, as well as an inexplicable thirst for Harrow's life. In the twisted hallways of God's home, she is not simply frail and confused. She is haunted.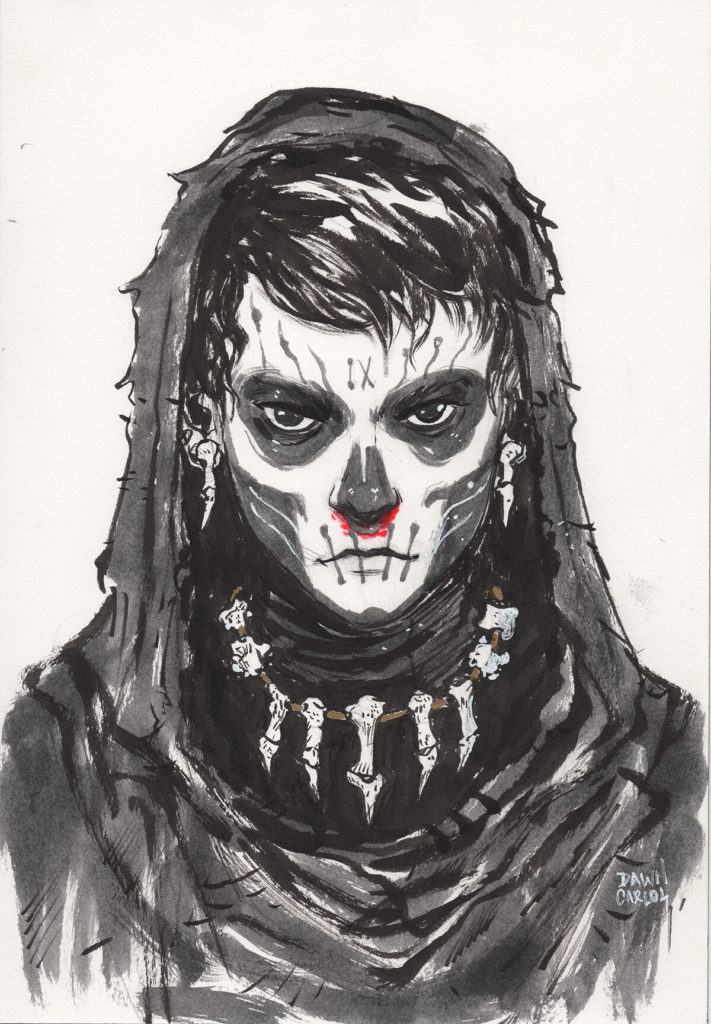 That this mystery is absolutely maddening, is a given. But Tamsyn Muir uses it brilliantly to tell a story of a girl on the brink of mental breakdown. It is a story of depression and inadequacy, and of injustice. And as Harrow tries to understand her failures, and overcome them, it also becomes a story of heartbreaking intimacy and truly heroic emotional openness.
Harrow the Ninth is an absolute masterpiece, just like its predecessor, while being twice as ambitious. It takes a bold new trajectory, but still retains the baroque darkness that makes Muir's universe so enticing. What it lacks in contemporary humor, it more than makes up for in far more complex storytelling and character development. The book makes you emotionally invested not only in the current plot, but also in a messed-up retelling of a story you already know. And it the process, it gives wonderful center stage to characters you thought you'd never meet again.
Which is outrageous, as well as absolutely delightful, just like everything about Tamsyn Muir's writing! To be fair, I wish that the first few chapters were a little more welcoming. The story is extremely confusing at first, and the reader is thrown into a labyrinth with no clear exit. But in the end, there was never a doubt in my mind that the book would deliver on its mysteries. I just didn't anticipate how incredible it would be in the process.