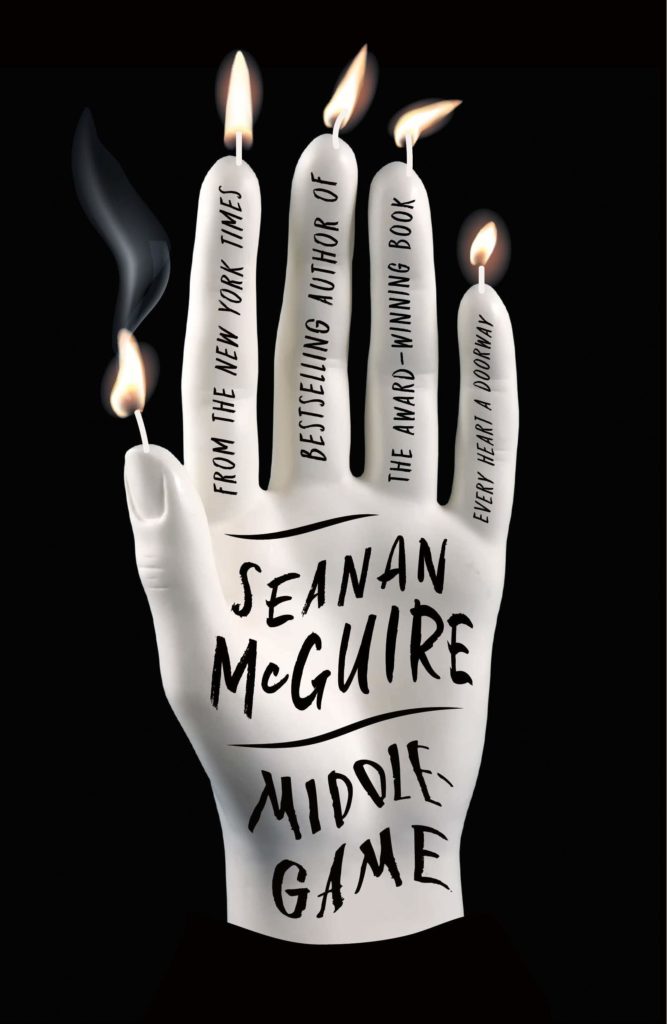 As part of my Hugo 2020 marathon, I finally got through Seanan McGuire's massive epic Middlegame. It's not that I didn't want to, honestly. But I only recently got acquainted with McGuire's work, and I feared that I might be oversaturated with it. I am happy to report that I was wrong to worry.
Middlegame is massive. Not just in page-count, but in scope, and in a way I genuinely like. The story begins decades ago (but really, over a century ago), with the creation of two unique children. In a world where centuries-old alchemists practice their miracles in secret, a brilliant and monstrous genius — himself the creation of another — seeks to achieve what even the mistress he killed could not: embody a guiding principle of the universe in human form. Twins Roger and Dodger are the two halves of the Doctrine of Ethos. Placed in adoptive families under surveillance, they are meant to grow apart from each other. This way, by the time their powers manifest, they would be easier to control.
Except, they find each other in the space between their minds.
Middlegame follows Roger and Dodger from their 7th year until present day, when they're in their late 20s. The narrative is omniscient, jumping perspectives between the two protagonists, as well as the villains trying to control their destinies. McGuire is amazing at this type of storytelling. She often flat out tells the reader of tragedies still to come, only to deliver them later in unexpected ways.
The story goes to some genuinely dark places, and while I am not one for content warnings, it's important to know what you're getting yourself into. There is a whole lot of fairly gruesome murder, and a particularly grueling scene of self-harm. The author doesn't do this lightly, or for shock value, but still, it's important to know in advance that this is not a YA adventure.
The violence and tragedy underline another theme of the book, which is alternate timelines. McGuire deftly spreads out signs that the twins are on a path that has led them to failure and death many times. And they have rewritten their fate over and over, trying to retain even a fraction of knowledge that might save them next time. The more they mature, the more their story focuses on the power that they embody. Middlegame begins as a tale of two children learning how to be what they are without hurting each other. But by the end, the magical aspects of the world are driving the vehicle full speed. And for the longest time it seems like they're driving it into a concrete wall.
Roger and Dodger are wonderful characters, particularly Dodger. She is a math prodigy, and while not explicitly labeled as such, certain aspects of her are coded as autistic. McGuire develops her brilliantly, both as herself, and in the context of her sometimes-toxic, but always loving relationship with her more mundane brother. Roger himself is more subtle, more relatably flawed, at least at first. But the story also follows him more closely than it does his sister, and so we get to see how divinity impacts them on a deeply human level.
I have seen people criticizing the book for its length. The way I see it, this story could either be a very short action adventure, or the sprawling coming of age saga that it is, with no middle ground. As I thoroughly love McGuire's writing and characterization, I didn't mind the sprawling coming of age saga version, but I can see how others might be more focused on story. Even so, the book ultimately delivers on that as well. It just asks you to stick with it. And in its defense, it never drags its heels. As the twins grow, their lives never cease to be compelling.
All in all, I really loved Middlegame. It makes grand promises, and then surprises you by actually delivering on them. It does so in a single volume too, raising the stakes to a point where sequels would be impossible. And even if I love a good series, there is a lot to be said about solid stand-alone storytelling. Definitely recommended reading, with some content warnings.
P.S. The audiobook is read by Amber Benson, a.k.a. Tara from Buffy the Vampire Slayer. Not that this is terribly relevant, but it was an added plus for me.