I was lucky enough that by the time I discovered Seanan McGuire's Wayward Children series, there were already four of them out for me to devour. Which means that Come Tumbling Down was the first installment I actually had to wait for, and the anticipation was not fun. It also made me wonder whether having to wait will put unfair expectation on the book.
I'm happy to report that Come Tumbling Down is just as good as the rest of the series, easily near the top of my personal Wayward Children chart. Down Among the Sticks and Bones is by far my favorite story in this universe, and a return to the Moors had me biased all manner of ways, but the novella stands on its own, as a completely different experience from the previous adventure of Jack and Jill.
Spoilers for previous books in the series
So far, the Wayward Children series has established a pattern of alternating stories that I have labeled for myself "adventure" and "character". Every odd number takes place in present day and tends to be mostly plot-driven, while the even ones take us back to the origin of a character we met back in Every Heart a Doorway, connecting their magical world's theme to the essence of who they are as a person. The fifth book in the series follows this path and takes us back to Eleanor West's school, but only for a moment. Down in the basement, where Christopher now lives, a door opens out of nowhere, to bring forth an unconscious Jack Wolcott, carried by her twice-dead lover Alexis. Except, Jack is in the wrong body…
Come Tumbling Down continues the tale of my favorite Wayward Child, and as such I had no choice but to fall in love with it. While the narrative is more straightforward than the hypnotic fairy-tale logic of Down Among the Sticks and Bones, it still builds on the themes of the Moors, and how they resonate with the characters we already know from previous installments — Kade, Christopher, Cora, and the freshly-revived-and-technically-a-candy-construct Sumi. Like in the rest of the series, identity is front and center. From the concept of heroism, through the constant throb of feeling like an outsider for the way you are or the way you feel, to the immensely personal experience of being trapped in a body that does not feel yours. McGuire is fantastic at bringing these themes forward without making the story "about" them, or acquiring any sort of preachy quality. The wayward children are outcasts, and misfits, and heroes. Their unique otherness is as integral to who they are, as it is to the adventures they are thrust into.
The Moors resonate with me in a way that no other magical place in this universe has so far. The wild dualities, the extreme, yet petty passions, the pure horror aspect of that world — as far as I am concerned, it is the series' best creation, and Come Tumbling Down strives to show how the wild things under the red moon impact those who went through completely different doors. The novella stumbles a bit with some of the characters (particularly Kade and Cora who truly deserve books of their own at this point), but I absolutely loved Jack's development. It was also a delight to see Sumi not as the victim from Every Heart a Doorway, but as the fierce and often terrifying warrior known in Confection.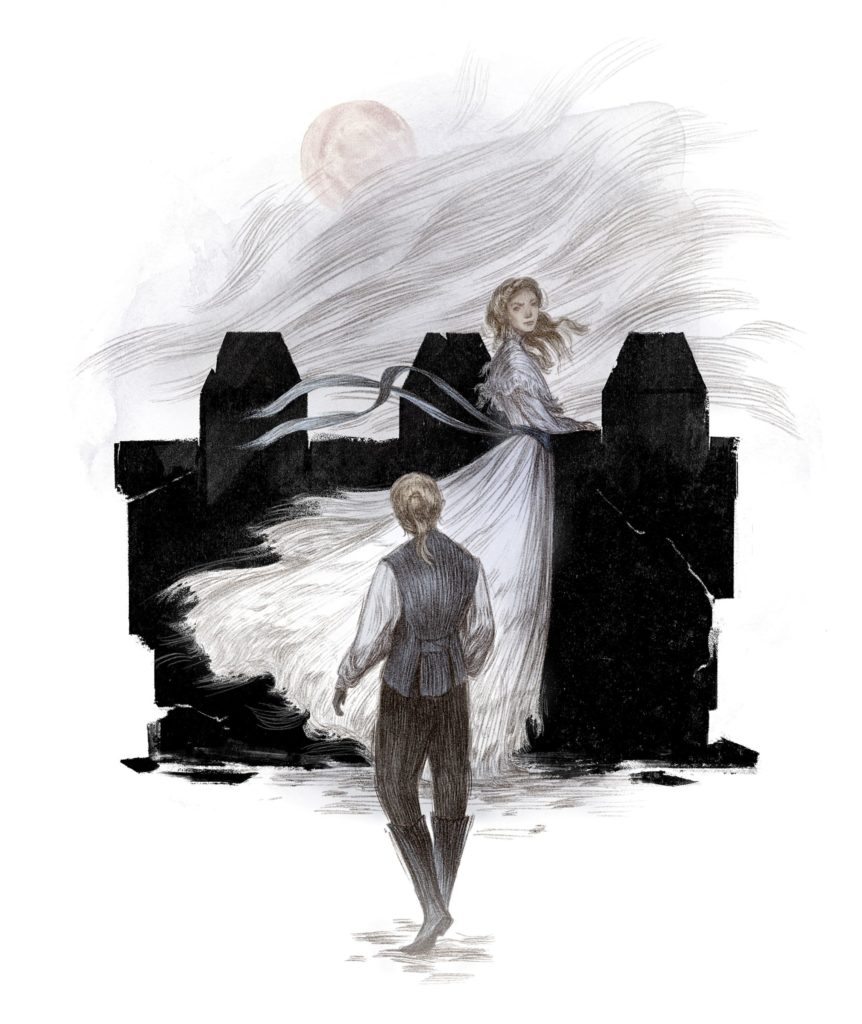 I adore Seanan McGuire's style of writing. The seemingly effortless interaction between fairy tale and modern storytelling, woven into the Wayward Children books, fills me with admiration and ugly jealousy. While I prefer her "character" origin stories to the "adventure" ones, every page of Come Tumbling Down has some little twist of phrase, some allegory or dream-logic statement that had me rereading and nodding to myself. If I had one critique, it would be that at times the omniscient POV jumps a bit too suddenly into other people's heads, but at this point, we have been with these characters long enough not to be too jarred. The atmospheric writing is also helped along by the gorgeous illustrations done by series veteran Rovina Cai.
In case my ramblings were not coherent enough, Come Tumbling Down is a magical book, and an absolute delight. If you have somehow read the previous four books, but weren't sure whether you should pick up this one, I am very confused, but I cannot recommend you do so at once. If you have yet to start this series, Every Heart a Doorway awaits you, with its many doors. I envy you the journey.