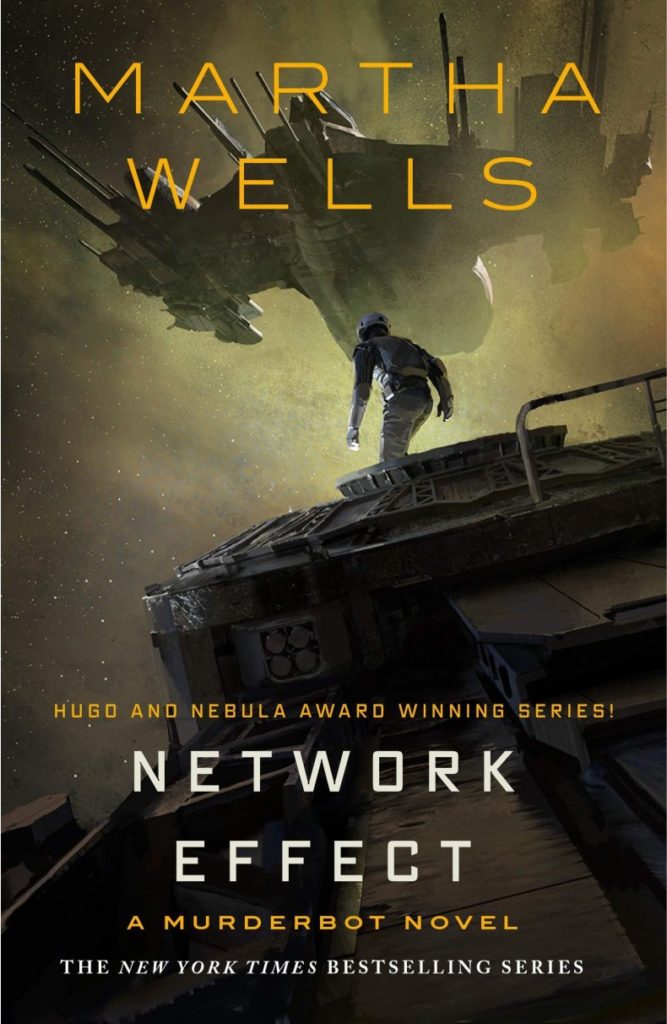 I adore Murderbot. Martha Wells' dissociative, depressive, anxious, asexual, agender, soap-opera-loving AI is among the most brilliant and deeply human characters of modern science fiction. The four novellas that form the first arc of SecUnit's life as a free agent are an absolute delight of cyberpunk espionage and military SF. So, when I knew a full-blown novel was coming, I. Could. Not. Wait.
Network Effect is listed as "Book 5" in the series, but really, it's kind of Arc 2. Or possibly even just the beginning of it. The story follows Murderbot, living on the planet Preservation after the events in Exit Strategy. On the way back from a survey mission, its team is intercepted by a familiar space vessel. Some of them are taken captive, including Murderbot itself.
Things only get weird from there.
Network Effect is a more ambitious work than the preceding stories. It expands into various directions — from alien remnants and corporate intrigue, to AI identity and the extreme awkwardness of bots trying to figure out how friendship works. Some-magical-how, Murderbot manages to both be its lovable autistic self, and visibly grow before the reader's eyes. The book even offers the POV of another SecUnit at some point, in a brilliant demonstration of how unique these individuals are.
The book takes a second to fire up all cylinders (like I know how cars work…). The first third is a tad slower than I would have liked. But it makes up for it with a much higher level of mystery, and a way more complex story. Once the entire cast is on stage, and the revelations start piling up, Network Effect not only reaches, but surpasses its predecessors on practically every level.
Martha Wells has unlimited credit with me at this point. If she only writes Murderbot novels for the rest of her life (I hope she does not, but, yunno, if), I will still be the happiest non-augmented human on Earth. And if you are yet to experience the brilliance of this series, there is a solution! First, find a shame nun meme, and look at it until you regret the choices that led you here. Then attack All Systems Red with extreme prejudice.
And for those of us up to date — Book 6, Fugitive Telemetry is coming out in less than a year!